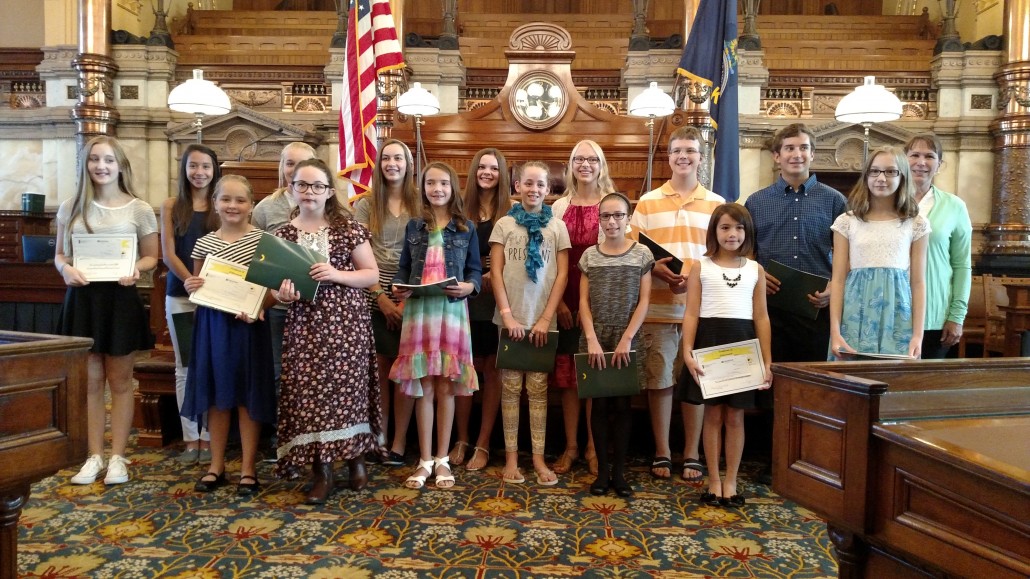 Children in grades 3-12 are eligible to enter to win CASH prizes! The contest runs from January through April 30 of each year. Entry guidelines will be posted at that time.
2018 Theme: "Describe Kansas"
Select a word or phrase to describe Kansas. Make a clear connection between the word or phrase and an aspect of Kansas, such as the state's history, landscape, people, traditions, or other aspects. Explain how the word or phrase describes Kansas and include specific examples and descriptive explanations.
Open to Kansas students in grades 3-12.
Winners will be divided by the four Congressional Districts.
Click here to view the theme, requirements, etc.
2017 Kansas Book Festival Writing Contest Winners:
3rd-5th Grade, First Place
Lola McBride, Sunset Elementary, Salina
Fiona L. Stevenson, School of the Guardians, Delia
Sofia Cushenbery-Andrews, Piper Elementary, Kansas City
Jared Stopczynski, Isley Traditional Elementary Magnet, Bel Aire
3rd-5th Grade, Second Place
Nelson Underwood, Rock Elementary, Mankato
Kaylee Clancy, Langston Hughes Elementary, Lawrence
Ava Azzeh, Piper Elementary West, Kansas City
Kathryn Bruntz, Isley Traditional Elementary Magnet, Bel Aire
6th-8th Grade, First Place
Elise Unruh, Magnet School at Allen, Hutchinson
Emma Schwant, Wanamaker Elementary, Topeka
Sofia Olivera, Trailridge Middle School, Lenexa
Josiah Bright, South Haven Junior High, South Haven
6th-8th Grade, Second Place
Reese Kohr, Chase County Jr/Sr High, Cottonwood Falls
Levi Meiwes, Iola Middle, Iola
Callan Taylor, Trailridge Middle School, Lenexa
Kyla Baker, South Haven Junior High, South Haven 9
th-12th Grade, First Place
Alicia DeHaan, Turkey Trot Homeschool, Salina
Sierra Staatz, Tonganoxie High, Tonganoxie
Harrison Polen, Shawnee Mission South High, Overland Park
Joanna Mugglin, Ninnescah Academy, Clearwater
9th-12th Grade, Second Place
Henry Wiebe, Rolla High, Rolla
Joey Tan, Maize Virtual High, Lawrence
Hayley Koontz, Circle High, Towanda